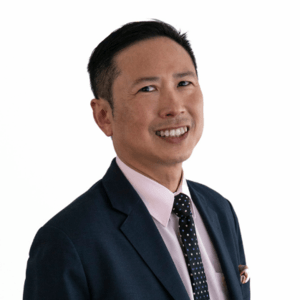 MB BS (Hons) MMed FRCOG FRANZCOG CREI
Specialities: Fertility, Gynaecology
Dr Andrew Kan is an experienced fertility specialist with a reputation throughout Asia and Australia for his understanding and care for patients
Dr Andrew Kan is a visiting fertility specialist from Australia.
Dr Andrew Kan is one of the founding doctors of IVFAustralia and has trained to the highest qualifications in reproductive medicine. He has been involved in infertility care for more than 25 years now and has managed more than 10,000 infertility couples to date. Andrew is highly regarded amongst his patients and uses the latest fertility science and treatment protocols to help people achieve their dream of parenthood. He is an experienced fertility specialist with a reputation throughout Asia and Australia for his understanding and care for patients from a range of cultural backgrounds. His fertility expertise is held in the highest regard, to the extent that he has been consulted regarding the setup of a number of IVF units.
Andrew understands and respects many patients' desire to begin treatment with the least invasive methods and is researching optimal treatment progression (including the controversial low dose, lite or mild stimulation IVF) and age-related response to IVF (such as IVF for women in their twenties and forties, ages which are often considered age extremes for IVF).
Dr Kan has a particular expertise in treating patients with polycystic ovarian syndrome and male infertility, and those who require donor sperm or eggs.
After completing his training in obstetrics and gynaecology in Sydney, Dr Kan worked in London for three years in Guys, St Thomas' and Lister Hospitals, to further his expertise in infertility. He then returned to Sydney to complete the highest level of qualification in fertility in Australia.
Dr Kan now maintains an appointment as a Conjoint Senior Lecturer at The University of New South Wales and lectures at the Masters of Reproductive Medicine program. He is also an examiner at all levels at the Royal Australian & New Zealand College of Obstetricians and Gynaecologists.
Qualifications
Bachelor of Medicine (Honors), University of Sydney
Master of Medicine (Reproductive Health and Genetics)
Sub-specialty certification in Reproductive Endocrinology and Infertility (CREI)
Fellow, Royal Australian & New Zealand College of Obstetricians and Gynaecologists (FRANZCOG)
Fellow, Royal College of Obstetricians and Gynaecologists (FRCOG)
Graduate Diploma of Management, Macquarie Graduate School of Management
Languages: Dr Kan speaks fluent English, Mandarin and Cantonese. He also speaks conversational Japanese, Malay and Indonesian.
Research Interests: Dr Kan's research interests reflect his personal approach to tailoring treatment to each patient's clinical and personal needs. For example, he has been examining the effect of different ethnicity on fertility for many years and is seeing trends in social and clinical aspects emerge