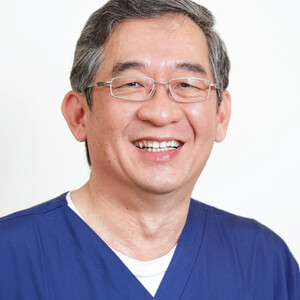 Dr Liow Swee Lian
Scientific Director
Dr Liow Swee Lian has helped many couples achieve their dream of having a baby, and has enjoyed high success rates in the first cycle with frozen embryos
"I am passionate about helping couples who have difficulties in conceiving, and helping them to fulfill their desire to have a family."
If you are undergoing IVF treatment with Virtus Fertility Centre Singapore, Dr Liow will be closely involved in your treatment programme from the very beginning. As our Scientific Director, he works closely with our fertility specialists and says it is beneficial to meet with patients and help to counsel them through the process.
Dr Liow joined the Department of Obstetrics and Gynaecology at the National University of Singapore in 1990, where he worked with a pioneering group of reproductive biologists and clinical embryologists in Singapore.
Over the past two decades he has helped many couples achieve their dream of having a baby with a high success rate in the first cycle with frozen embryos.
Working with Virtus Fertility Centre Singapore gives Dr Liow access to the latest technology and assisted reproductive techniques, including ICSI and blastocyst culture. He believes the Virtus laboratory is the best IVF facility in South-East Asia, and that he and his skilled team will continue to break new ground in fertility treatment in the region.
Qualifications
Accredited Clinical Embryologist, Ministry of Health, Singapore
Master of Science (Reproductive Biology), National University of Singapore
Doctor of Philosophy, National University of Singapore.
Doctor of Veterinary Medicine (University of Agriculture, Malaysia)
Vice-President, Pro-tem Committee for Association of Clinical Embryologists Singapore (ACES) 2014
Specialist Expertise
Andrology - DNA fragmentation in sperm
Embryology – Blastocyst culture, pioneer and expertise in micromanipulation techniques such as Subzonal Insemination (SUZI), Intracytoplasmic Sperm Injection (ICSI), Laser Assisted Hatching, Polar Body and Embryo biopsy for Preimplantation Genetic Diagnosis (PGD) and Intracytoplasmic morphologically-selected sperm injection (IMSI)
Fertility preservation – Sperm and testicular tissue cryopreservation, oocyte (egg) cryopreservation, and ovarian tissue cryopreservation
Languages: Dr Liow speaks fluent English, Bahasa Malaysia/ Indonesia and conversational Mandarin.
Research Interests:
Dr Liow was involved in the development of ICSI, resulting in the first ICSI baby born in Asia in 1994. His work included the refining of micro-tools and the injection pipette, the techniques of sperm immobilisation and sperm injection and using ejaculated or testicular sperm.
Assisted egg activation research to identify a chemical-based activating agent that can effectively assist in the activation process.
MSc thesis on laser micromanipulation of mammalian embryos, where laser is used to assist hatching – this is now considered faster and safer. Laser is also now used to extract a cell or cells from the egg for genetic diagnosis.
PhD thesis was the first study conducted in a multi-ethnic Asian population on microdeletions of genes responsible for sperm production in the DAZ region of the Y chromosome.
Currently, Dr Liow is also collaborating with research scientists from Genome Institute of Singapore (GIS). He has published 54 research papers and abstracts, and six chapters in research publications.
Scientific Advancements for IVF Success