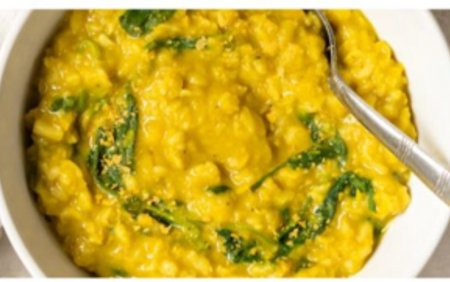 Veg out
Loading up on veggies will boost your levels of fertility-friendly vitamin C and folate. Try this delicious recipe by Accredited Dietitian of Singapore , Claudia Correia.
Recipe: Savory Golden Oats
1 serving
20 minutes
Ingredients:
2 cups Vegetable Broth
1/2 cup Oats (rolled)
1/4 cup Dry Red Lentils
1/2 tsp Onion Powder
1/2 tsp Turmeric
1/4 tsp Garlic Powder
1/8 tsp Sea Salt
1 cup Baby Spinach
1/2 tsp Nutritional Yeast (optional)
Directions:
Bring the vegetable broth to a gentle boil over medium-high heat.
Add the oats, lentils, onion powder, turmeric, garlic power and salt. Stir to combine. Reduce the heat to medium-low and cook for 12 to 15 minutes, stirring often, until the lentils are tender.
Stir in the baby spinach and nutritional yeast, if using. Season with additional salt if needed. Enjoy!
Notes:
Leftovers: Refrigerate in an airtight container for up to three days. For best results, reheat with additional broth on the stove or in the microwave.
More Flavor: Add red pepper flakes, fresh ground black pepper or fresh garlic.
Additional Toppings: Fresh herbs, green onions, diced tomatoes or sesame seeds.
No Vegetable Broth: Use water instead and increase the sea salt to taste.