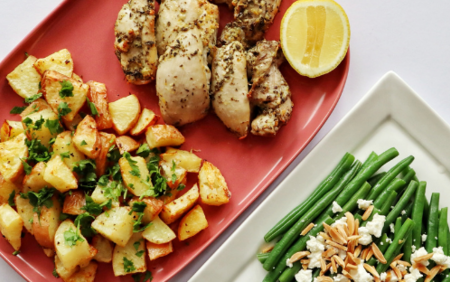 Veg out
Loading up on veggies will boost your levels of fertility-friendly vitamin C and folate.
If you want to prepare your body for pregnancy, a diet rich in fruit and vegetables is an excellent place to start.
"Incorporating foods naturally rich in antioxidants like fruits, vegetables, herbs and spices is important when trying to conceive," says Stefanie Valakas, a fertility dietitian known as The Dietologist. "All dietary patterns studied among men and women prior to conceiving are characterised by a higher intake of these key foods, critical ingredients in the Mediterranean diet."
One of the key antioxidants to include is vitamin C, found in white potatoes, capsicum and citrus fruit. Valakas says vitamin C can improve sperm quality, but it can help women too.
"For female fertility, some research has linked improved outcomes from the stimulation phase of IVF in those who had higher levels of vitamin C," she adds.
Another key nutrient is folate, which helps in the formation of your baby's neural tube. Sources of folate include green vegetables, beans and fruit.
This recipe provides 108mcg of folate (about 25% of your daily needs) and 45mg of vitamin C (all your daily requirements). If you're pregnant, or think you might be, leave out the feta.
Recipe: Greek-style Chicken with Lemon Potatoes and Green Beans (Serves 4)
Ingredients:
3 tbsp extra virgin olive oil
4 small white potatoes, washed, skin-on, sliced into quarters
Salt and pepper
3 garlic cloves, crushed
2 lemons
400g chicken thighs, trimmed
500g green beans
70g feta cheese
50g slivered almonds, toasted
¼ cup flat-leaf parsley, finely diced
Method:
Preheat oven to 160oC (fan-forced) or 180*C.
Prepare one large baking tray with a drizzle of oil and line a second large baking tray with baking paper.
Place potatoes in a large bowl and add a drizzle of oil, salt and pepper, 2 cloves crushed garlic, juice of 1 lemon and zest of ½ a lemon. Toss to coat well.
Place potatoes on the oiled tray, spaced apart, and cook 45 minutes until golden.
On a plate, rub chicken with 1 tbsp olive oil, salt, pepper, remaining lemon zest and remaining garlic. Coat chicken evenly.
Place chicken on lined baking tray and cook 25-35 minutes until cooked through but still juicy.
Steam or boil green beans until just tender, about 6-8 minutes (don't let them get too soft). Once cooked, drizzle with oil and a squeeze of lemon. Serve topped with feta, almonds and parsley , alongside potatoes and chicken.