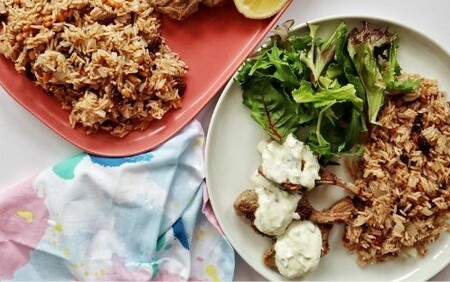 Iron
Planning on starting a family? Then it's time to up your iron intake.
Iron is an essential nutrient for women – and during pregnancy, you need more of it than ever. Stefanie Valakas, a fertility dietitian known as The Dietologist, says it's important to boost iron stores before you get pregnant.
"Particularly for those with heavier periods, keeping on top of your iron status and checking in with your doctor if you experience fatigue, poor concentration or restless legs and correcting this with a dietitian and medical professional is important before conceiving," she says.
"If you're entering into pregnancy already behind on your iron needs, it can be very difficult to keep up with the higher iron demands in the second and third trimester in particular."
Women need 18mg of iron a day, and 27mg when pregnant, she says. This recipe provides about 4mg of iron per serve.
Recipe: Grilled Lamb with Pilaf and Tzatziki (Serves 4)
Ingredients:
2 tbsp extra virgin olive oil
1 brown onion, diced
¾ cup basmati rice
1½ cups water
Salt and black pepper
400g lamb cutlets or chops
1 clove garlic, crushed
1 tsp dried oregano
2 tsp ground cinnamon
½ cup raisins
⅓ cup pine nuts, toasted
Roasted or steamed veggies, to serve
For Tzatziki
½ cup plain Greek yoghurt
¼ tsp sea salt
½ lemon, juiced
Drizzle of extra virgin olive oil
1 Lebanese cucumber
Method:
In a medium-sized saucepan, drizzle 1 tbsp oil and sauté onion until translucent. Add rice and continue to stir for 1-2 minutes. Add water with a pinch of salt. Cook for 15-20 minutes until cooked through and all water is absorbed.
Meanwhile, prepare the Tzatziki by placing yoghurt in a bowl. Add salt, lemon juice and oil. Coarsely grate cucumber with the skin on, place in a sieve and add a pinch of salt. Use your hands to push out the excess liquid and allow to drain. Add to the yoghurt mixture, stir through and set aside.
Remove rice from the saucepan and set aside to cool.
Prepare a large griddle pan with oil on medium heat (alternatively you can use the oven grill or a barbecue). Coat lamb in salt, pepper, garlic and oregano and rub well. Place in pan and cook for 5 minutes each side.
Meanwhile, add cinnamon, raisins and pine nuts to the rice mixture. Combine well so rice is well coated.
Serve lamb with pilaf, a dollop of Tzatziki and veggies.