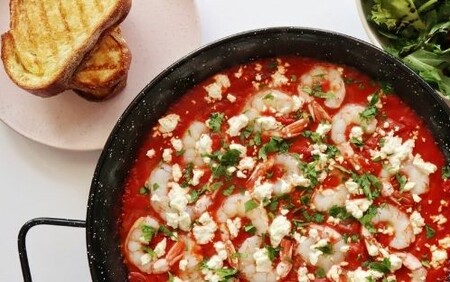 Iodine
The Dietologists's iodine-packed Prawn & Feta with Sourdough is simple to make and deliciously scrumptious!
Recipe: Prawn & Feta with sourdough (Serves 4)
Your thyroid is a hard-working gland that comes under increasing pressure during pregnancy. It supports a baby's growth, including brain development, up until about 20 weeks of pregnancy. That's why Australian Government guidelines recommend an intake of at
least 150mcg of iodine per day before and during pregnancy, along with folic acid, to support thyroid function. According to Stefanie Valakas, The Dietologist and a fertility dietitian, iodine may be beneficial for dads-to-be, too. Great sources of iodine are seafood and iodised salt, which is added to most breads in Australia. Seafood is also a major component of the Mediterranean diet, proven to benefit fertility. This recipe contains about 60mcg of iodine per serve using regular bread made with iodised salt. It's safe in early pregnancy since the feta is heated above 65*C.
Ingredients
• 1 tbsp extra virgin olive
oil, plus extra for brushing
bread
• ½ cup red onion, halved
and thinly sliced
• 3 garlic cloves
• 1 cup water or vegetable
stock (reduced salt)
• 400g tomato passata
• 400g raw peeled and
deveined prawns (fresh
or frozen)
• 75g feta cheese, crumbled
• 4 slices sourdough bread
• 2 tbsp flat-leaf parsley,
chopped
• 2 cups mixed greens,
to serve
Method
1. Preheat oven to 160oC (fan-forced) or 180oC.
2. Heat an ovenproof large shallow pan over medium heat. Coat with 1 tbsp oil and cook onion. Stir for 3 minutes until soft and caramelised. Add 2 thinly sliced garlic cloves and cook, stirring, for 1 minute until aromatic.
3. Add water (or vegetable stock) and simmer for 2 minutes or until reduced by half. Add tomato passata and simmer for 10 minutes or until the mixture is thick.
4. Top with the prawns and feta, then bake in the oven for 10 minutes or until cooked through.
5. Meanwhile, heat a griddle pan on medium heat. Using a pastry brush, brush the sourdough with extra oil and rub 1 clove of garlic on each side for extra flavour. Toast the bread on the griddle pan (or you could pop it under the grill or in the toaster), flipping after 1-2 minutes or crisp.
6. Top the prawns with chopped parsley and serve with toasted sourdough and mixed greens.