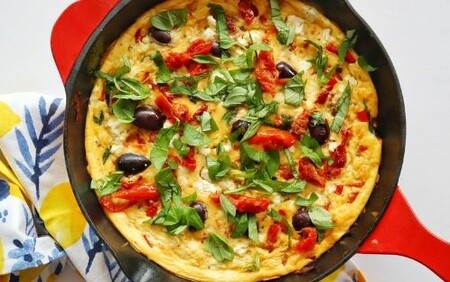 Choline
Give your body the ultimate choline boost, with The Dietologist's delicious Healthy Mediterranean Frittata!
GET CRACKING
Meet choline, an essential pregnancy nutrient contained in eggs.
If you're not already a fan of eggs, now's the time to crack into this essential fertility food. According to Stefanie Valakas, a fertility dietitian known as The Dietologist, egg yolks are one of the richest sources of the nutrient choline a pregnancy health superstar.
"New research is looking into the role that choline plays in supporting women in pregnancy in terms of placenta health, as well as the baby's brain development in the third trimester," she says.
And you don't have to wait until you're pregnant. New research shows women who meet their choline recommendations before conception, alongside their folic acid needs, had a reduced risk of neural tube defects such as spina bifida in their pregnancies, compared to women who took folic acid alone.
This recipe will provide a solid 300mg of choline per serving, helping you reach your daily needs of 425mg per day.
Recipe: Mediterranean Frittata (Serves 4)
Ingredients:
• 8 eggs
• ¼ cup plain Greek yoghurt
• Salt and black pepper
• 1 tbsp extra virgin olive oil
• ½ cup red onion, sliced
• 1 cup baby spinach, washed and drained well
• 2 red capsicums, diced
• ½ cup feta cheese, crumbled
• ⅓ cup semi sun-dried tomatoes
• ¼ cup pitted Kalamata olives
• ¼ cup basil leaves, chopped
Method:
1. Preheat oven to 160oC (fan-forced) or 180oC.
2. In a large bowl, whisk together eggs, yoghurt, salt and pepper. Set mixture aside.
3. Heat oil in a large oven-safe fry pan. Add onion and cook until soft, about 3-5 minutes. Add spinach and capsicum, and cook until wilted.
4. Pour the egg mixture on top of the cooked veggies, and allow to cook 1-2 minutes.
5. Crumble feta on top, sprinkle sun-dried tomatoes and dot the olives into the egg mixture before topping with fresh basil.
6. Bake until cooked through and serve with a side salad of mixed greens.